Skip to Content
Local Specialists in Fencing Installation & Repair
Infinity Fence understands investing in a fence at your home should last for years or decades with minimal problems. Our fencing selection is made with durable materials and high-quality construction, from ornamental to wood to chain link. We don't stop with selling you a new fence to protect your property. Let us install your new fence to ensure every section gets expertly placed and secured. Our installation services complete your fencing without missing any of the pieces and minimize your chance of needing repairs in the near future. If a storm, stray bicycle, or anything else damages your fence, we offer exceptional repairs to restore its condition with long-lasting durability.
Build a New Fence With Our Quality Installations
Once you purchase new fencing, you need a highly trained professional company to install it at your property. Infinity Fence has ample experience installing various fencing types, such as wood, chain link, and ornamental options. Our team of fencing professionals courteously works with you to determine the exact dimensions to fit your new fence. After carefully mapping out the placement, we install your fencing quickly and efficiently. We always use the best tools and equipment in the industry during your installation. You also get the assurance of top-quality materials and craftsmanship when you purchase your new fencing from us.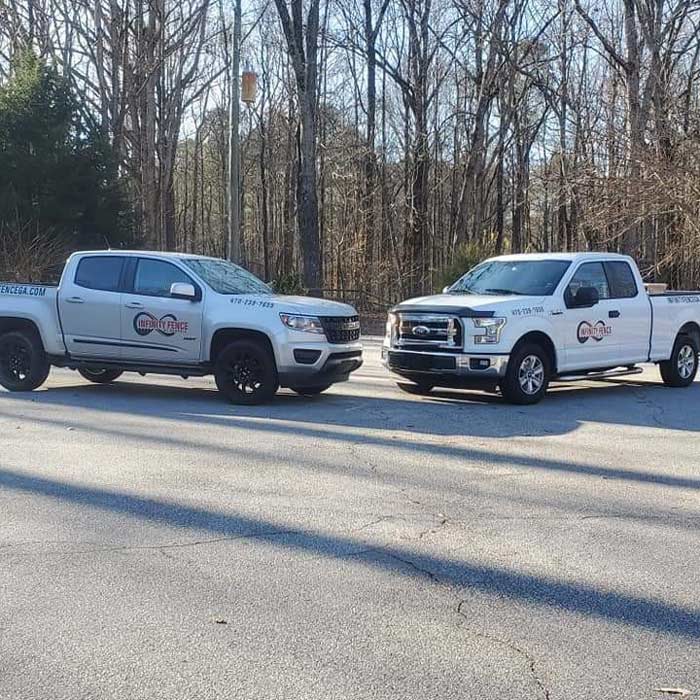 Ample Experience Repairing Fences of Various Types
Whether years of use have worn down components or an accident has damaged the boards, rails, or chain links in your fencing, repairs are virtually inevitable. The good news is our crew has extensive training and expertise in fixing all types of problems with various fence materials, including wood and metal pieces. We are familiar with all the various parts your fence may contain and how to resolve cracks, breaks, and other damage or wear. If simple repairs are not sufficient or cost-effective, we can also replace the affected components and match them to your current fence. The color and appearance can all be restored to ensure a consistent look. Our finished work will last for years, but if something goes wrong, reach out to us to fix it.
Fencing Services in North Metro Atlanta, GA
Your fencing installation and repair needs deserve attention from Infinity Fence's fully trained service specialists. We offer our expertise and skillset with outstanding customer service to make your fencing experience as pleasant as possible. Our goal is to be your number-one choice in fencing service providers.
Fencing Sales & Installation in North Metro Atlanta, GA